A detailed guide on how to make authentic Pho Tai broth, and assemble the dish, in 5 steps.
For those of you looking for an intense culinary experience, this authentically prepared traditional Vietnamese classic is the way to go. Cooking the traditional Vietnamese way takes some patience, but your efforts will be rewarded with an authentic and delicious tasting Pho Tai soup.

If you want to recreate the authentic Pho Tai soup, the best thing to do is to follow the traditional way and trust the process. With a little practice and patience, the reward will be a truly classic, authentic and mouthwatering dish that will have everyone in your family asking for more.

Successfully making Pho Tai soup is essentially about staying true to the traditional recipes that have been passed down through generations. This classic Vietnamese soup is a labor of love for many families who take pride in creating a truly authentic dish.
With a few simple techniques, the key ingredients and some patience, anyone can make it a success. Lets go!
More than delicious, this soup has been described as "an explosion of taste from the first contact of the taste buds with this perfumed liquid with spices and magic herbs
The process laid out step by step — how to make it:
Basically, Pho Tai is made with rice noodles that are cooked until they are soft and chewy. The soup base for Pho is a broth typically made by simmering roasted beef bones for hours (usually about four hours total, although some say it can be done in as little as two hours), along with aromatic spices such as star anise, cinnamon, cloves, and cardamom. The result is a deeply flavored broth that's both savory and slightly sweet.

But what really sets pho tai apart from other soups is the thinly sliced raw beef that's added to each bowl just before serving. This beef cooks in the hot broth within seconds, becoming tender and juicy without losing its texture or flavor!

In addition to the ingredients mentioned above, there are some other traditional components that are added to pho tai to customize it according to each person's taste:
• Herbs: Fresh herbs such as cilantro, basil or mint add brightness and freshness to each bite.
• Lime: A squeeze of fresh lime juice adds acidity, which helps cut through any richness in the dish.
• Bean Sprouts: These crunchy sprouts add texture contrast, while also bringing additional nutritional benefits
• Sriracha Sauce: If you like spicy foods then this chili sauce will definitely kick things up a notch!
• Hoisin Sauce: A sweet sauce made from fermented soybeans which pairs perfectly with savory meat.
Step One:
Check if you have all the needed kitchenware ready, so you'll not be looking for items mid-recipe.
Let's equip ourselves with the right tools! Here's the list of kitchenware you'll need for this recipe:
Preparation
1. Sharp chef knife
To precisely cut the meat and vegetables.
2. Cutting board
To prepare the meat and vegetables.
3. Freezer bag or plastic wrap (optional)
To freeze beef tenderloin briefly for easier slicing.
4. Measuring cups and spoons
For accurate ingredient measurements.
5. Can opener (optional)
To open any canned ingredients.
Cooking
6. Large stockpot
To make the broth for the soup and house the bones, meat, and aromatics during cooking.
7. Pressure cooker (optional)
An alternative to a large stockpot for making the broth.
8. Sheet pan (baking tray)
To broil the onion and ginger for the broth.
9. Small pan
To toast the spices for the broth.
10. Large pot
To boil water and cook the rice noodles.
11. Colander
To drain the cooked noodles.
2. Tongs or spider strainer
To blanch the noodles and cook the thinly sliced beef.
13. Slotted spoon
For skimming off foam and impurities from the broth.
14. Timer (optional)
To ensure accurate cooking times.
Serving and eating
15. Ladle
To serve the soup and assemble the final dish.
16. Bowls
To serve the soup in.
17. Small plates
To serve bean sprouts, Thai basil, cilantro, and lime wedges.
18. Serving tray (optional)
To carry bowls and utensils to the table.
19. Small bowls (optional)
For each person to mix their own sauce with hoisin, sriracha, fish sauce, and lime juice.
20. Chopsticks
To eat the noodles and meat traditionally.
21. Spoons
To eat the soup with, and measure out spices for the broth.
All kitchenware needed, and their uses
Step Two:
Check if you have all the ingredients (see list in recipe below):
In short:
a. Broth: beef bones, onions, ginger, spices, etc.
b. Noodles: rice noodles, cooking and preparation
c. Meat: thinly sliced beef
d. Garnishes: bean sprouts, Thai basil, lime wedges, jalapeños, and cilantro
Step Three:
Prepare the Broth (see instructions on recipe below):
In short:
a. Roast the bones and vegetables
b. Boil and simmer
c. Add and toast the spices
d. Strain and season the broth
Step Four:
Prepare the Noodles, Meat, and Garnishes:
In short:
a. Cook and rinse the rice noodles
b. Slice the beef thinly
c. Arrange the garnishes
Step Five:
Assemble the Pho Tai Soup (whoo-hoo!!):
In short:
a. Arrange the noodles, meat, and garnishes in the bowl
b. Pour the hot broth
c. Let each diner customize flavors with garnishes and condiments
Feast your eyes, your nose, your mouth!!
Authentic Traditional Pho Tai Soup Recipe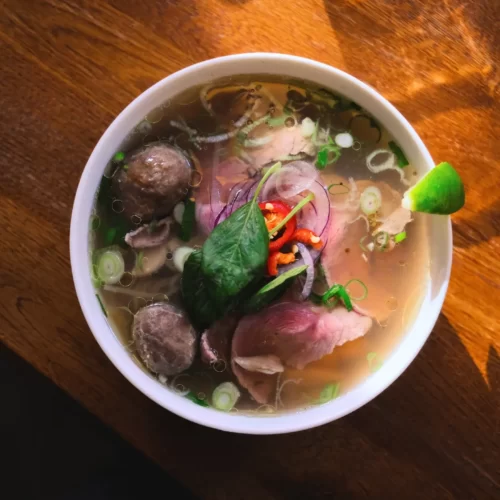 Authentic Pho Tai Soup Recipe
This is a detailed recipe for you to make an authentic Pho Tai at home, and delight everyone!
Ingredients
For the broth:
– 4 pounds beef bones

oxtail preferentially, or a combination of marrow bones and knuckle bones

– 1 pound beef chuck roast

cut into 2-3 pieces

– 6 quarts water

– 2 medium yellow onions

quartered

– 4-inch piece fresh ginger

halved lengthwise and smashed

– 1/4 cup fish sauce

– 3 tablespoons rock sugar

you can also use granulated sugar

– 1 tablespoon kosher salt

– 8 whole star anise

– 5 whole cloves

– 1 cinnamon stick
For the Pho Tai:
– 8-10 ounces dried rice noodles

thin or flat

– 1 pound thinly sliced raw sirloin

– 1 medium yellow onion

thinly sliced

– 4 green onions

thinly sliced

– 1/4 cup chopped cilantro

– 2 cups bean sprouts

– 2 jalapeños

thinly sliced

– 2 limes

cut into wedges

– Thai basil
For garnish:
– Fresh herbs such as cilantro or basil

– Bean sprouts

– Lime wedges

– Sriracha sauce

optional

– Hoisin Sauce

optional
Instructions
In a large stockpot, parboil the beef bones for 5 minutes to clean them. Transfer them to a bowl of cold water to chill. Wash the bones thoroughly to remove any congealed blood, or other contaminants that can cloud your soup. Drain, rinse, and set aside.

Wash the pot out well, and then, add the boiled beef bones, beef chuck roast, quartered onions, smashed ginger, and 6 quarts water. Bring to a boil, then reduce heat to maintain a simmer (fill the pot with enough water to cover the bones and brisket). Bring to a boil and then lower the heat to a simmer.

Cook for about 2 hours, skimming off any foam or impurities rising to the top.

Now toast the spices (star anise, cloves, cinnamon stick, cardamom pod (if using), fennel seeds, and coriander seeds) in a dry pan over medium low heat for about 3 minutes, until fragrant. To make them easier to remove later, use a kitchen string to tie up the spices in a piece of cheesecloth, before adding them to the broth.

Add fish sauce, sugar, salt, star anise, cloves, and cinnamon stick to the pot.

Continue to simmer for another 2 hours. Skim the surface often to remove any foam and fat.

Taste the broth and adjust seasoning by adding more salt, sugar, and/or fish sauce as needed.

Soak rice noodles in warm water for 20-30 minutes until soft.

Cook the noodles according to the package instructions.

Drain and set aside.

Prepare the garnishes: thinly slice the onion, chop the green onions, cilantro, and slice jalapeños.

Set aside.

After the broth has simmered for a total of 4 hours, strain the broth through a fine-mesh sieve into a clean pot. Remove and discard the beef bones, spices, and vegetables.

Remove the beef chuck from the broth, thinly slice it, and set aside.

Bring the broth to a rolling boil.

Assemble the Pho Tai: In serving bowls, layer cooked rice noodles, sliced raw sirloin, and sliced cooked beef chuck.

Pour the boiling hot broth over the top to cook the raw sirloin, make sure the sirloin slices are submerged in the broth.

Garnish the soup with the sliced onions, green onions, cilantro, jalapeños, bean sprouts, and Thai basil.

Squeeze lime wedges over the top.
Notes
Nutritional Information (per serving):
– Total Calories: 993 calories (this may vary slightly based on the quantity of noodles and beef used)
– Protein: 56g
– Carbohydrates: 101g (from noodles, vegetables and sugar)
– Fat: 39g
– Sodium: 2155mg
– Fiber: 4g
Please note that the nutritional information provided is an estimation and may vary depending on the specific ingredients used.
This recipe can be adjusted to personal preferences and dietary restrictions if necessary.
Dietary restriction

s:
1. Vegetarian: No
2. Vegan: No
3. Gluten-free: Yes (ensure you use gluten-free rice noodles and gluten-free soy sauce if you want to replace the fish sauce)
4. Dairy-free: Yes
5. Nut-free: Yes
6. Paleo: No (due to rice noodles)
7. Low carb: No
8. Low FODMAP: No
9. Low calorie: No
10. Whole30: No (due to rice noodles, sugar, and fish sauce)
11. Keto: No
12. Diabetic-friendly: No (due to noodles and sugar)
Tips and tricks:
1 – To add a really complex yummy smoky flavor, and delicate sweetness to your soup, roast the bones (just after point 1 in the Instructions):
Preheat your oven to 425F (220C).
Place the beef bones on a baking sheet and roast in the oven for 30 minutes, flipping once halfway through.
Some people might try to speed things up, by, instead, using a torch or putting the them right on the stove, but that won't work as well.
Use the broiler in your oven, for that nice even layer of burnt flavor and some extra sweetness too.
2 – For even more flavor, you can char the onion and ginger: While the bones are boiling, put them on a baking pan, and place it directly under the heating element of your broiler, cut side up.
Broil until the onion and ginger is nicely charred. Rinse away all the blackened skins.
3 – If you don't have a meat slicer, you can partially freeze the meat, so that it's firm enough to hold its shape.
Then you can use a long sharp knife to slice it thinly against the grain.
4 – One trick to getting super thin meat already sliced for you, is to get meat that's already cut for shabu-shabu at a Japanese grocery store.
5 – Do not use too much ginger — ginger is a good anti-inflammatory and digestive aid, but it can also be too strong for some people's taste buds.
6 – To prevent the noodles from sticking together, you should use a large bowl and add them to the hot broth in small quantities at a time.
If you have many noodles, it is better to cut them into smaller pieces so they can be easily taken out of the soup.
7 – You can add salt if desired, but keep in mind that fish sauce already contains an abundance of sodium.
8 – Serve this soup immediately, with fresh herbs on top like Thai basil or mint leaves (optional).
9 – Some people will let it simmer for 6 hours, and even more; the longer it simmers, the richer the broth.
FAQ's

How can I make my own sauces?

What Vegetables Pair with Pho Tai?
Many vegetables bring out the taste of the Pho Tai, adding flavor and texture to the soup:
Common vegetables that pair well with Pho Tai include bean sprouts, green onions, bell peppers, jalapeños, carrots, and mushrooms.
Bean sprouts are a classic topping for Pho Tai as they add refreshing crunch and a slightly nutty flavor.
The green onions are a great way to add a burst of onion flavor to the soup without overpowering it.
Bell peppers equally enhance the flavor of the dish with a mild crunch and sweetness.
While jalapeños are traditionally used in much of Viet cuisine, they bring a nice touch of spice to the Pho Tai.
Carrots and mushrooms provide a savory earthiness which complements the mellow broth of the soup.

What type of noodles are used in pho tai?
It's typically made with either thin, white rice noodles, or flat rice noodles. The most commonly used noodle for pho tai is the thin, white rice noodles, known as "banh pho" or "pho noodles". These noodles are thin and white, usually about 4mm wide. They are the same noodles used for other popular Vietnamese dishes such as goi cuon (fresh Vietnamese spring rolls), banh mi (Vietnamese sandwiches), and gâc chien (Vietnamese fried cake).
The flat rice noodles, which are thicker and typically cut into long strips, are also used in pho tai. They are commonly referred to as "bun" and are used in dishes such as bun cha and bun thit nuong.

Is the traditional Pho Tai soup gluten free?
This traditional Pho Tai soup recipe, yes, it's gluten free. None of the ingredients contain gluten.
However, some variations of Pho soup may contain gluten, such as those made with wheat noodles or soy sauce. Just check the labels. If you are eating at a restaurant, you can always ask them to prepare your Pho Tai soup using gluten-free ingredients.

Is the traditional Pho Tai soup dairy free?
This traditional Pho Tai soup recipe, yes, it's also dairy-free. None of the ingredients here contain dairy. Again, if you're eating at a restaurant, ask them to make sure your soup is dairy free.

How do I pronounce "Pho Tai" (phở tái)?
"Pho Tai" is pronounced as "fuh tie".

What are some popular variations of Pho Tai?
Some popular variations of pho include:
Pho Bo (beef noodle soup);
Pho Ga (made with chicken instead of beef);
Pho Tron (a dry version of Pho that is mixed with herbs and vegetables);
Pho Xao (a stir-fried version of Pho that is cooked with vegetables and meat);
Pho Cuon (a roll version of Pho that is wrapped with rice paper and filled with beef, herbs, and vegetables).
As well as many regional variations such as Northern-style pho (pho Hanoi) and Southern-style pho (pho Nam or pho Saigon).
Some pho dishes are not even soup-based, including Pho sot vang (wine-sauced pho, with beef stewed in red wine).
Many variations of pho have developed depending on the region and the preferences of the cook, resulting in a diverse range of options for pho lovers.

What are some common mistakes to avoid when making authentic Pho Tai?
Here are 10 common mistakes to avoid when making Pho Tai soup:
1-Not using the right cut of beef: Pho Tai is made with thin slices of rare beef, which can be made with London broil, round eye, or sirloin steak. Using the wrong cut of beef can result in tough and chewy meat.
2-Not properly blanching the bones before beginning to make the broth.
3-Not cooking the beef properly: The raw beef is added just before the dish is served and is gently cooked by the hot broth. On the other hand, overcooking the beef can result in tough texture and dry meat.
4-Using too much or too little seasoning.
5-Not using the right spices: Pho Tai broth is made with a combination of spices such as charred onion, ginger, star anise, and cinnamon. Using the wrong spices or not enough of them can result in a bland broth.
6-Not using the right noodles: Pho Tai is typically made with rice noodles such as vermicelli. Using the wrong type of noodles can result in a different texture and taste.
7-Not using enough garnishes: Pho Tai is typically served with fresh cilantro, scallions, basil, and bean sprouts. Not using enough garnishes can result in a less flavorful and less authentic dish.
8-Not adjusting the seasoning: Pho Tai broth is typically seasoned with fish sauce and sugar. Not adjusting the seasoning to taste can result in a broth that is too sweet or too salty.
9-Another mistake is not garnishing the soup with enough fresh herbs like cilantro and basil, which can contribute to the overall flavor of the soup.
10-Additionally, not using high-quality, fresh ingredients can also negatively affect the final result of the soup.
Remember, it's important to be patient and take the time to properly prepare the broth and ingredients to ensure the best possible flavor and texture.

Can pho tai be made vegetarian or vegan?
Yes, Pho Tai can be made vegetarian or vegan. Substitutions can be made for the meat in the traditional recipe, such as tofu, mushrooms, vegetables, and soy-based proteins. To make it vegan, the broth can be made from vegetable-based stock or partial substitutes, like coconut milk.
See this Recipe for a vegan version

How do I store leftover Pho Tai?
REFERENCES:
https://www.healthline.com/nutrition/pho-soup
Please share, thank you!